Hey everyone how are you ?
Today I'm going to be doing the Australian tag which is basically a bunch of
Australia related questions.
Nobody tagged me to do this but I thought it would be fun and you could
learn a little more about me :)
Which state do you live in?
I live in Victoria which is right down the bottom of Australia on the right.
Which states have you visited around Australia?
I've been to Sydney in New South Wales at least 10 times as my uncle and auntie live there. I went to Canberra in the Australian Capital Territory for school camp. And lastly I've been to Adelaide and Kangaroo Island which is in South Australia.
I would really like to travel all around Australia on a massive road trip once I've finished school!
What do you order at Boost Juice?
For those of you who don't know, Boost is an Australian juice and smoothie store. I never order the same thing at Boost as I love to try new flavours but the low fat smoothies are definitely my favourites!

Suprè, Valleygirl or Cotton On
Wow this is a very hard question!! I don't shop at Suprè anymore as I find everything is really cheap quality and a little bit tacky. So it's a fight between Valleygirl and Cotton On. I might have to say Valleygirl because majority of my clothes are from there though I do have quite a lot from Cotton On as well !
Sportsgirl or Dotti
These two shops are a little more high end so I don't shop there often but I'm going to have to say sportsgirl as I love all their accessories and makeup items.
Who is your favourite Australian actor/actress?
There is no way I could of picked one person for this question!!
The hottie Hemsworth brothers have to be my favourite aussie actors as they are smoking hot!!
For actresses, I love Isla Fisher in Now You See Me and Confessions of a Shopoholic. I also loved Phoebe Tonkin when she was in H2O Just Add Water as well as Tomorrow When The War Began.
And of course how could I forget comedian Rebel Wilson.
Describe your formal night at school?
So for those Americans out there, formal is like prom here in Aus. I haven't actually had my formal yet but I have one this year which I will definitely blog about!
Do you like Vegemite and how do you eat it?
This is a funny one because up until a month ago I hated Vegemite. I found it way too salty and didn't like it one bit. That was until I was forced to eat it everyday for a week while away with my best friend. After that week I just grew to love it! The trick is to put a tiny bit over the top of butter on your toast and then it's d-lish !
Have you seen or petted a kangaroo?
I've seen kangaroos many times but I've never petted one. It's on my bucket list though!
Have you ever seen the Harbour Bridge?
Yes I've seen the harbour bridge, driven on the bridge and I've actually walked on top of the Harbour Bridge. This is probably the most surreal experience ever and I really recommend you give it a go if you get the chance because it's amazing!!
Do you say mate or gday ?
I say mate sometimes with my friends but as a joke not seriously. I rarely ever say gday even as a joke.
Do you say flip flops or wedges ?
I don't say either! I say thongs which to a few of you might sound a little dirty!
Do you say jumper or sweater?
I say jumper.
What do you think of Australia overall ?
I think Australia is a great country to live in. We have pretty good weather, beautiful nature as well as architecture and I believe Australians are genuinely nice people :)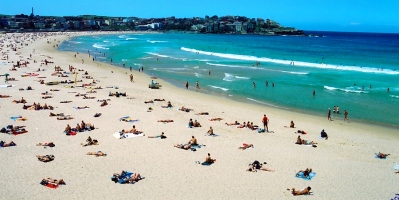 So that's all the questions for the Australian Tag!
If you have any more questions about Australia please leave them in the comments :)
*Disclaimer: none of these photos are my own*
❀❀❀